Zak's Takeaway Manchester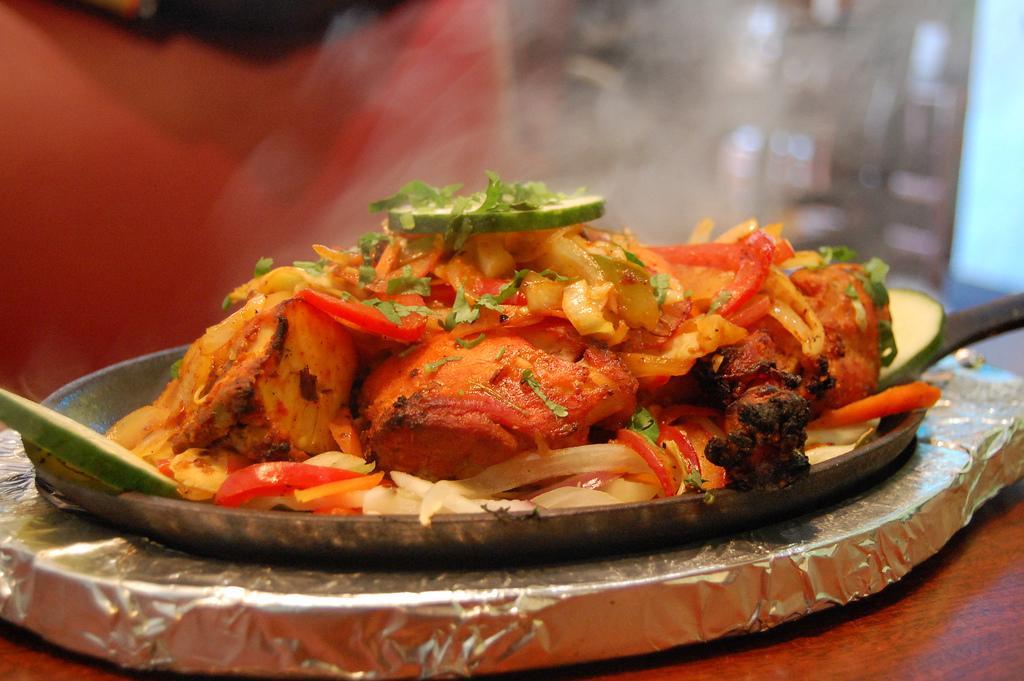 Zak's Takeaway Manchester
Menu Zak's Takeaway Manchester
Over these years, the Indian cuisine has shaped itself up to become one of the most demanded cuisines ever. The spicy touch of its items coupled with the most attractive flavour really makes them irresistible. Here, at Zak's Takeaway Manchester, we have come up with some of the best items that set the Indian cuisine a class apart. Starters, like any other item, is truly flavoursome. You get to choose from options like Plain Poppadom, Chicken Tikka Starter, Chicken Chaat Puri, Garlic Chicken Puri, Onion Bhaji, Meat Samosa, Lamb Chops etc. If you are passionate about Tandoori dishes, try out items like Chicken Tikka Main, Tandoori Mixed Grill, Chicken Shashlik Tandoori, Tandoori Lamb Chops, Lamb Tikka Masala etc. The best thing about the Indian cuisine lies in its attention to detail. Try our signature items like Tandoori Butter Chicken, Chicken & Cheese Kofta, Maharaja Mixed Karahi, Chicken South Indian Garlic, Asian Style Chef's Special, Lamb Tikka Nepalese Special etc. Combine them with our bread items like Peshwari Naan, Keema Paratha, Tandoori Roti, Garlic Danya Naan, Chapati or rice items like Green Pepper Pilau Rice, Keema Pilau Rice, Mushroom Pilau Rice, Boiled Rice etc. and what you get is absolute happiness. You can also try our assorted items made with Indian spices like Chicken Pathia, Lamb Tikka Pathia, Chicken Madras, Beef Vindaloo, Chicken Phall, King Prawn Bhuna, Chicken Tikka Dupiaza, Mushroom Karahi etc. Add a touch of refreshment to your meal with our side dish items like Large Chips & Cheese, Large Tray of Donner, Large Tray of Red Donner, Onion Rings, Chicken Strips, Fried Chicken etc. To have these and a lot more from a pure Indian restaurant, pay us a visit today with your near and dear ones.
About Zak's Takeaway Manchester
We are trying to put up an authentic taste with each item that we make for you. The true essence lies in the fact that most Indian dishes are made with an exclusive range of spices and veggies. That combined with our strong efforts and special tricks make the taste of each dish truly magnificent. To maintain a strong quality statement across our range, we employ best-grade ingredients from the market and use secret spice proportions for all of our dishes. To take the food experience a notch above for you, we have our home delivery arrangements. Just download our app from the Google Play Store or the Apple App Store and get our menu live on your smartphone screen. Discover a whole host of unique items from the Indian cuisine and choose your favourite ones from the menu. Place your order and we would deliver a truly phenomenal experience at your doorstep.
Restaurant location Zak's Takeaway Manchester
We are positioned at 22 Ainsworth Rd, Radcliffe M26 4EA, right by the side of the street. This place, being the centre of attraction for the city is also home to a lot of amenities. Transportation here is very smooth so is the flow of hassle-free traffic. There are also numerous ways of how you can reach us from any part of the city. Our delivery services are also able to reach even the farthest corners of the city, thanks to this location. Yet, if you have problems in finding us, you can trigger our app from your smartphone, wherefrom you get our full location information. Great food has never been so easier and simpler to find. Reach us today to have a splendid food affair.